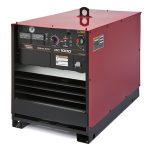 Top Features
500 amp output connections - provide enhanced arc characteristics for low amperage submerged arc and MIG welding procedures.
Single range control - for precise output control and easy operation.
Terminal strip and output studs - for remote connections and cable.
Low profile case - allows installation under a workbench and for stacking up to 2 machines to conserve floor space.
Removable side panels - for easy access to internal parts.